Tuesday, July 1, 2014 - 19:00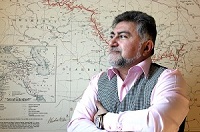 On July 1, 2014, Policy Forum Armenia (PFA) hosted Ara Papian, Director of Modus Vivendi research center in Yerevan. Mr. Papian's presentation on "Woodrow Wilson's Arbitral Award as the Main Basis for Armenian Territorial Rights" was based on years of in-depth research on US President Woodrow Wilson's Arbitral Award of November 22, 1920 entitled: "Decision of the President of the United States of America respecting the Frontier between Turkey and Armenia, Access for Armenia to the Sea, and the Demilitarization of Turkish Territory adjacent to the Armenian Frontier."
In his opening remarks, PFA's co-founder Dr. David Grigorian noted that Mr. Papian's research offers solid foundations both for broader academic inquiry into the issue and also for any future legal and foreign policy action on the part of Armenia's government and Diaspora institutions.
Mr. Papian's work focuses on the Arbitral Award in the context of international law in general and the United Nation's official methodology in particular. Apart from its historic value, the speaker talked about the potential practical implications of President Wilson's Award for the Armenian cause going forward. In this regard, he stressed that the Arbitral Award offers a strong foundation for pursuing the Armenian claims in international courts of law and that the attention of world-wide Armenian communities and Armenia should not focus on Genocide recognition efforts alone. However, while the upcoming Genocide Centennial offers an opportune moment, the efforts along these lines have been disappointing due to lack of coordination, vision, and resources.
A lively question and answer session followed, with members of Washington's Armenian community expressing their frustration with lack of a coherent vision among the traditional Diaspora structures and lobbying groups on the practical issues related to Armenian claims beyond the Genocide recognition.
Prior to establishing Modus Vivendi center, Mr. Papian was the Ambassador Extraordinary and Plenipotentiary of Armenia to Canada in 2001-06 and served as the spokesperson and the Head of Public Affairs Department at the Armenia's Foreign Ministry. In addition to focusing on the Arbitral Award, Mr. Papian's and his colleagues' current research bring to light other aspects of the US involvement in, and assistance to, Armenia during the Genocide and its aftermath.
The event was held at the Soorp Khatch Armenian Apostolic Church, in Bethesda, Maryland (a suburb of Washington, DC).