Tuesday, May 7, 2013 - 00:00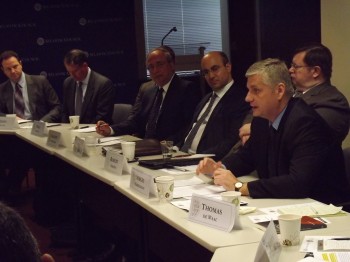 On May 7, Policy Forum Armenia joined forces with the Atlantic Council to hold an off-the-record roundtable discussion with Washington-based senior experts on NATO and the South Caucasus. Armenia is a participant of the European Union's Eastern Partnership program and has had some engagement with NATO, which is in the midst of rethinking its partnership policy in the aftermath of the May 2012 Chicago Summit.
The discussion focused on the Armenia-NATO relationship and Armenia's defense and security, including military reform and other cooperation; NATO's objectives in the Black Sea and the Caucasus region and how Armenia relates to them; and Russia's and Turkey's role in the region and their relationship with Armenia. The discussion also touched upon Armenia's domestic political and economic situation and how they relate to Armenia's foreign policy and its regional standing as well as its overall progress.