Monday, June 3, 2013 - 12:30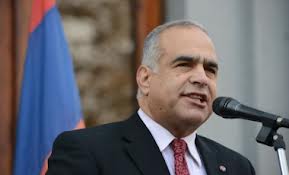 On June 3, 2013 Policy Forum Armenia invited the Heritage Party leader Raffi Hovannisian - independent Armenia's first minister of foreign affairs, recent presidential candidate, chief executive of the Armenian Center for National & International Studies, and founder of the Armenian Bar Association - for a conversation on foreign and domestic policy travelogue with up-front views of the political and civil society landscape. Raffi Hovannisian was a leading candidate in Armenia's disputed 2013 presidential elections, garnering a significant mandate of the Armenian people's individual votes and collective confidence.
The event was co-organized by Policy Forum Armenia in collaboration with the George Washington University Law School, the GWU's Institute for European, Russian, and Eurasian Studies at the Elliott School of International Relations, and the Armenian Bar Association.
Read our Blog post about the event.
Pictures from the event are available in our Media Gallery.